PRICE LIST
| 1 Strip (Single Plank) Wood Flooring 180mm width  | Price incl. VAT 20% |
| --- | --- |
| 11mm thickness, solid oak 3mm , mix of lenghts till 2400mm | 69€/m2 |
| 16mm thickness. solid oak 4mm, mix of lenghts till 3000mm | 79€/m2 |
Description:
The model of the XXL category belongs to the most requested DESIGN XXL collection, whose common feature is the combination of modern design with a unique drawing of oak wood rich in natural tannins.
XXL flooring are the identity of our production.
SURFACE:

Oak surface texture: brushed oak
Surface treatment: natural oil with hard wax oil 
 

Prázdny
DIMENSIONS:
Thickness:
16mm (4mm solid oak + 12mm multilayer core)
11mm (3mm solid oak + 8mm multilayer core)

Width: 180mm single strip flooring
Length: up to 3000mm (mix of lengths according to the selected category)
CONSTRUCTION:
Composition: 16mm total thickness = 4mm solid oak to the level of the tongue + 12mm superstable 8-layer core of birch wood.
Tongue-and-groove joint: a professional joint does not create a "floating board", therefore it is possible to install an unlimited area without interruption.
Density: 700 kg/m3
INSTALLATION:
We recommend installing the floor professionally (we will help arrange it if ordered). With adequate skill, it is possible to handle the assembly yourself. The table below provides an overview of the options, the procedure itself can be found in the INSTALLATION section.
| | | | |
| --- | --- | --- | --- |
| Method of assembly |  quality |  costs |  complexity of installation |
|  Glue down |  ***** |  ***** |  ***** (for professional instalation) |
|  Self-adhesive ELASTILON system |  **** |  **** |  **      (easy instalation) |
|  Caterpilar gluing |  *** |  *** |  ***     (medium instalation) |
|  Nailing |  ** |  ** |  **      (simple, grate neccessary) |
|  Gluing of tongue and groove |  * |  * |  *        (very easy) |

INSTALLATION RECOMMENDATIONS:
full-area gluing - elastic adhesives, high-quality PU penetration

ELASTILON - STRONG version

caterpillar gluing - elastic glues in "salami" packaging

nailing – grate with the density of 300mm

simple gluing of the joint - glue class D3
UNDERFLOOR HEATING:
The multi-layer construction of the floor meets the demanding requirements for underfloor heating in terms of density, thermal resistance, stability and is considered the best for this purpose.
High construction density:
Across the whole structure, there is only deciduous wood of similar density as oak, 700kg / m3. The tabular coefficient of thermal conductivity is 0.18W / m.K (this construction has a 50% higher density than conventional 3-layer floors).
Thanks to this, a favorable value of thermal resistance is achieved, which accelerates the onset of underfloor heating.
High stability (necessary for underfloor heating):
The multilayer construction of 8 layers rotated by 90 ° makes the parquet superstable, resistant to spatial and volume changes.
The professional tongue-and-groove joint also has an inseparable effect on the stability of the installation, which protects the floor from horizontal transmission even from small volume changes between the individual lamellae. To take advantage of this advantage, it is necessary to install the floor only by gluing to the substrate or to the ELASTILON self-adhesive system.
Comparison of laying different mix of floor lengths: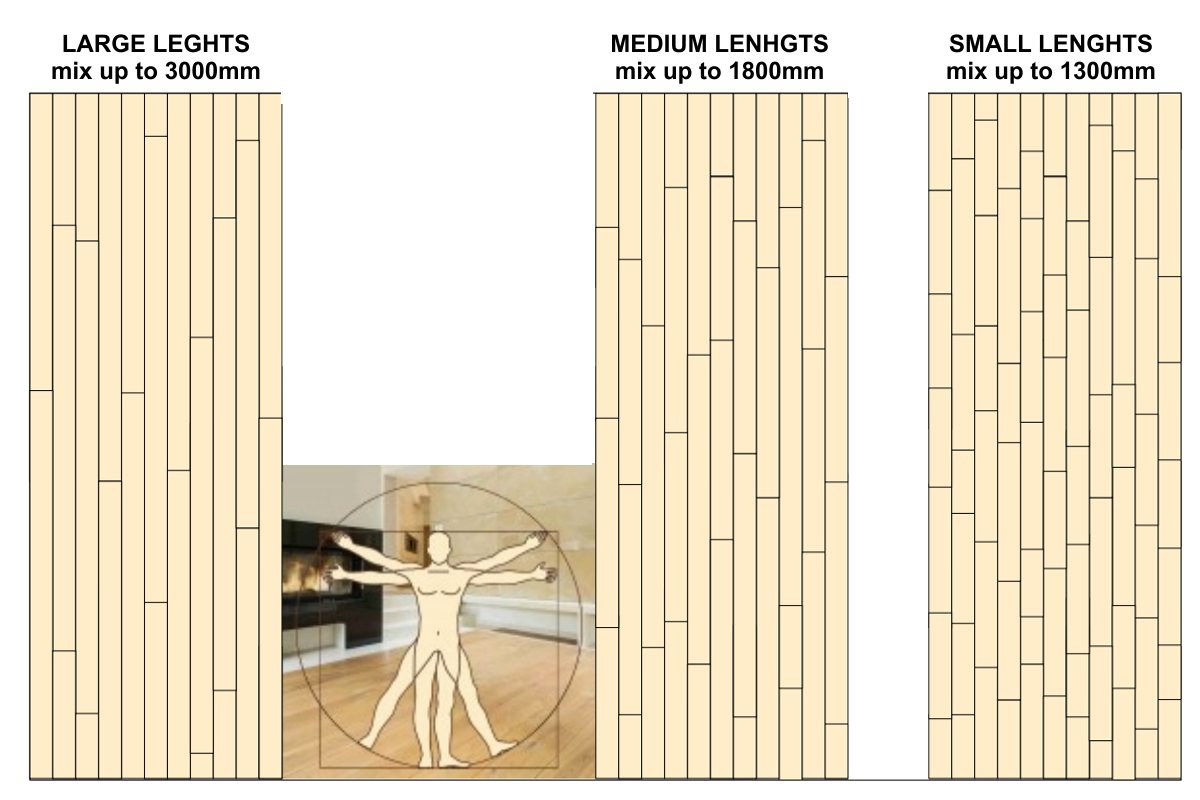 LONG-TERM VALUE OF OAK FLOOR with oxidizing oiled surface
OILED OXIDIZING * oak surface allows you to easily repair small accidental damage to the floor at any time and after years allows you to do an easy full-area renovation only by adding the original or the maintenance oil. Thanks to renovation, you do not have to sand the wood treated with oxidizing oil and at the same time it will make the wood age beautifully throughout the years.

The 4mm of solid oak reaching up to the level of the tongue-and-groove allows multiple complete renovations and so the quality of our wooden floors. You will also appreciate the 4mm of solid wood if you over time want a completely new design of the existing floor.
+ ADDITIONAL ADVANTAGE - We attach to the produced floor a complete technological procedure and a list of original mediums used for the surface treatment of solid oak. We believe that the customer should be able to use our process to create other elements of the interior as long as they are made of real oak. So far, they have appreciated it mainly for stairs, doors, tiles, but also window sills, new furniture, or even the restoration of old oak furniture.
* INFO - OXIDIZING Vs. UV surfaces
According to the method of drying, the floor surfaces are divided into UV-burnt and OXIDIZING, both can be in varnish and oil.
However, UV marking does not mean UV protection of wood, but a method of applying specially treated oil/varnish. The advantage of the UV surface is in the productivity of production, as it dries in a second, but ATTENTION - only below a certain frequency of light. The biggest disadvantage of this is that complex repairs are impossible without special equipment. The technology is used mainly by large productions where there is no time to dry.
OXIDIZING surfaces dry naturally 2-3 x after 24 hours in air and we use this more complex procedure for all products. Therefore, the surface and possible damage to our floors are under your CONTROL thanks to easy repairability and renovability without sanding into wood. We consider this to be a long-term advantage that WILL ALLOW OAK TO AGE BEAUTIFULLY.
 
 INFO for floor packaging and lamella dimensions.
The length mix consists of the dimensions of the lamellae according to the category. Mix of the category of large lengths of the main dimensions from 2000-3000mm with average approx. 2400mm, mix of medium lengths 1350-1800mm with average approx. 1600mm, mix of short lengths up to 1300mm with average approx. 800mm.

The packages have different lengths according to the main size of the board. The package consists of 4-6 layers of lamellae where usually one layer is half. An example for a package size of 1800 mm is in a package of 5 layers, of which 4 lamellas are 1800 mm each and 2 lamellas form one half layer of 900 mm.